For almost 40 years, the Blong family has been importing and selling hockey gear to the small yet mighty population of hockey players in New Zealand. What started as Ross Blong bringing in bits and pieces of gear for his son, Darren and Darren's friends to help start their venture into the hockey universe, has grown to be New Zealand's leading inline and ice hockey store. Though this is an accomplishment, it always has been more than just selling gear. 
Centre Ice is heavily involved in the hockey community and always has been. Not only does Centre Ice supply gear to most clubs and players, but the Centre Ice team also has their ties to the hockey community. From NZIHL players to social league players, coaches to friends and family of players, inline to ice hockey players – Centre Ice has had all kinds of people with different connections to hockey be part of the team over the years. The Centre Ice staff are passionate about hockey and are experienced with finding the best gear that suits you, so rest assured that you will be in good hands. Centre Ice aims to create a positive and friendly environment for anyone that walks into the store. Centre Ice has also always done their bit to contribute to both inline and ice hockey to help foster the growth of both games such as through sponsorships, free vouchers and more.
Everyone would be well aware of the COVID-19 pandemic and the impact that it has had on many. Centre Ice acknowledge and sympathise with their customers, supporters and anyone in the hockey community as the last two years have certainly been challenging for all. Having the season cut short was a hindrance for Centre Ice, as well as the difficulty of getting products that customers love into the store due to the increased shipping times, delay in manufacturing and longer processing times at the port. The importing of products became so challenging that Centre Ice was having to pre-book ordering products up to 10 months in advance of when the products arrived in store. The loss of the season was a kicker for all, however, Centre Ice chooses to look beyond what COVID-19 has ruined, but to see what opportunities can come out of it. 
Bauer has been a great company to work with. Centre Ice is the distributor for Bauer for New Zealand and has been so for many years, and they have certainly helped Centre Ice with some of the challenges that Centre Ice had in regards to their supply in 2021. For 2022, Centre Ice is focusing on the things that they can control, which is reflected in the developments Centre Ice have done throughout 2021.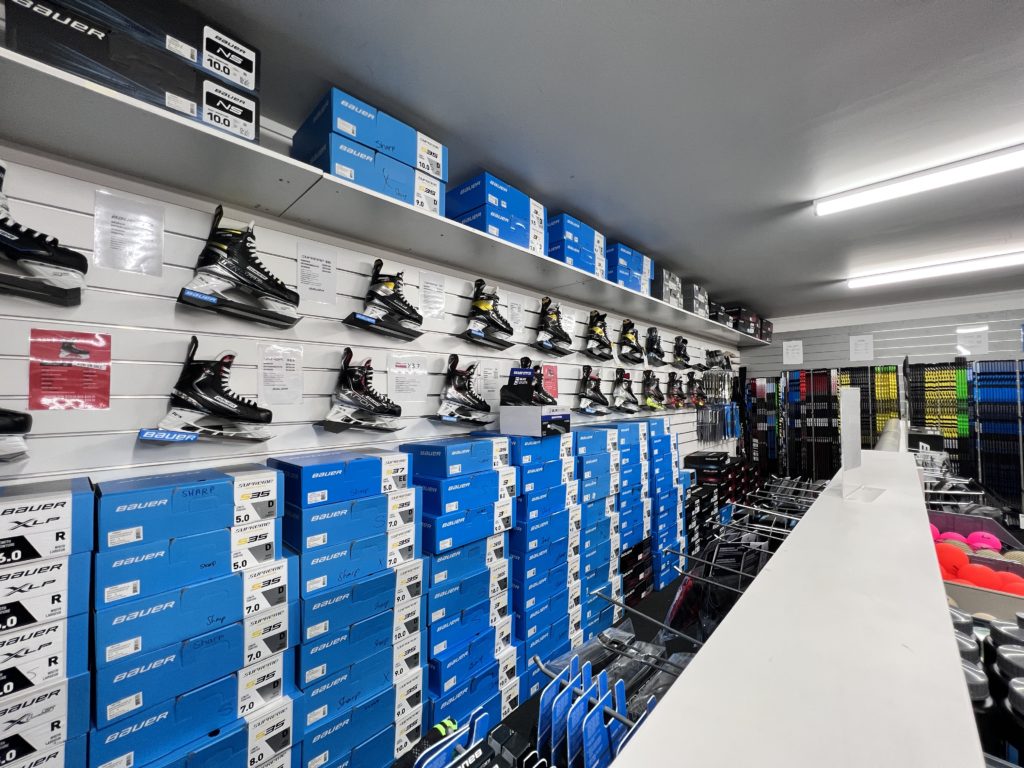 Midway through last year, renovations began on the Centre Ice store to revamp and modernise the shop by knocking down the wall that separated the Dugout and Centre Ice stores and changing the overall layout of the store. With this renovation, a shooting gallery was built so that customers can try out new sticks, which will hopefully be complete this year. Centre Ice has also expanded the stock within the store, bringing in more skates across all levels and sizes and doing the same across all gear in store. Centre Ice is improving the Goalie selection available both in-store and what is offered on the Centre Ice website. Effectively, if Bauer has stock available for Centre Ice to order, then Centre Ice will offer it to customers within New Zealand. Centre Ice has also improved what is offered in-store, with the new Spark machine hitting the store which offers a new and different 'Fire V' cut. This coupled with the Blade Master sharpening machine has resulted in Centre Ice being able to offer customers a very broad and comprehensive range of options for sharpening. Alongside this, Centre Ice is also offering more repair and maintenance options in the forms of boot stretching, re-riveting and other services that help enhance the skater's experience.
In April of this year, the Centre Ice team is aiming to launch a new website platform that they have been working on since 2021. The introduction of this will enhance the customer experience by streamlining the selling processes both in-store and online.
There will also be the introduction of a new social media competition called the 'Weekend Warrior'. This is where once a month, Centre Ice will reward a nominated person deserving of a $200 Centre Ice voucher. The individual nominated is someone who selflessly contributes to ice or inline hockey, whether it be a coach, administrator, manager, volunteer, player or parent.
Though the team at Centre Ice are proud of how far the business has gone and that the small business continues to grow despite the obstacles thrown in its way from the pandemic, their true pride is in the customer base that the business has and the amount of support it has received from the community. The Centre Ice team thanks everyone who has bought gear from Centre Ice, recommended Centre Ice and hit the like button on the Centre Ice social media posts. The team appreciates everyone that has helped Centre Ice to grow over the years and the patience that you all have had with Centre Ice through these times.
Frequently asked questions answered by Darren Blong:
How long have you been in the skating industry?
Since 1974.
Why don't you carry more brands?
The inline and ice hockey market is very small and we are focused on the distributing of one iconic brand: Bauer. Over the years, Bauer has continued to offer a full range of equipment that is durable, affordable and is appealing to the eye. We have found that focusing on working alongside one brand rather than multiple offers a better, easier experience for our customers.  
How do you price equipment?
We make best efforts to price our products so that customers are offered a similar or better price for a product in comparison to what prices are overseas. 
What is the Bauer Direct weekly order?
Thanks to the way that Bauer operates, we have the opportunity to order specific products that a customer may want, but we don't carry them in-store. All that is required is a pre-payment for the product that a customer wishes to purchase. We have catalogues on our website that are up to date with what Bauer's current stock is, or we can see all of what Bauer has available and give customers options for what product they may be after. We place Bauer order's on Wednesdays, they are then shipped out from Sweden on Fridays and we usually expect them to arrive 2-3 weeks after the Friday. 
How do you come up with the shipping costs?
The courier companies and freight forwarders dictate the prices of shipping to the North Island, South Island and within Auckland. Centre Ice has made the decision not to put a margin on top of the freight. We try to keep the costs of shipping as equal as possible so that the cost to ship to the South Island is not significantly more than to ship to the North Island. 
How do you give advice remotely?
We ship nationwide, and so we are very comfortable with communicating with customers over the phone and through emails to give them the very best advice with the fitting of equipment or what gear would work best for them. We also have several size guides online to guide customers on what size they may be, as well as a skate fit system that we have in place so that our team can advise you on the best skate fit for your foot. Helping customers without actually seeing them is a daily occurrence for us and so when the alert levels went into action, it was not difficult for us to transition to largely giving advice remotely.