Matt Schneider is a player that needs no introduction in the New Zealand ice hockey scene, captain of the Skycity Stampede in Queenstown and one of the newest faces in the Ice Blacks. But where did the 6 foot 7 Canadian come from? And how did he end up as Captain of the most successful team in the NZIHL? We managed to get on the phone to Schneider to talk about his road that lead him to New Zealand and making the national team.
What kind of hockey did you play growing up?
So, I grew up playing in Canada and was fortunate enough to play in the WHL for 3 years for the Tri-City Americans out of WA and ended up getting drafted to the Calgary flames in 2004. (Matt got drafted at #200 ahead of players like Pekka Rinne and Mark Streit) I went to a few training camps and that kind of thing but never really cracked the line-up.
After my Junior hockey was over at about 21 I went to university in Vancouver (UBC) to study cell biology and played hockey there until I was about 25. After I got my degree I kind of retired from competitive hockey and just played in a rec men's league at home in Vernon and then decided to do some travelling and ended up in New Zealand.
So how did you end up playing hockey for the Stampede?
Well I was just travelling the world kind of thing and to be honest, hockey was the last thing on my mind, I didn't even know there was a hockey league in New Zealand, I had no intentions of playing really. I had a job at a winery up in Blenheim and was planning on leaving in a few months after travelling the country.
When I came through Queenstown I saw the rink here and went inside and actually ended up talking to Simon Glass at the time, we got chatting and he told me about the league and I decided to stay and play. That first year was a bit odd because I didn't have any of my own gear so I was using gear they managed to pull together and then the following year I got my gear sent over and it's been all go since then.
What was your first impression of hockey in New Zealand?
Man, it really surprised me, as I said before I had no idea it was even going on. When you think of New Zealand, hockey's not the thing that comes to mind so I was really impressed at the level that is played here. With the limited exposure to the game, and ice time isn't available as freely as it is in Canada, it's pretty impressive the level that some of these guys and girls are playing at.
It really opened my eyes to the fact that hockey is everywhere, it's definitely a global sport and its pretty cool that there's so much passion for it here in New Zealand and that players like me can come from other countries and play here and try to help grow the sport here.
After 'retiring' from competitive hockey, are you intending to keep playing in the NZIHL for the future?
Well yeah, as long as I'm here, I mean I've got no plans to leave right now. Obviously when you're living away from home you get the urge to go home back to Canada every now and again or to keep travelling to other countries. However as long as I'm based in NZ, I'll try to play.
So, you played with the Ice Blacks against Australia back in September, are you a New Zealand citizen now?
Well I have residency here and all my papers are In for citizenship and we are trying to fast track that. Once the internal affairs guys review my case, as long as they are satisfied, I'll get granted my citizenship and should be on track to play with the Ice Blacks this April in Spain.
Is playing for the Ice Blacks something you had your eye on once you realised you would be here for a while?
It was always something that hung out in the back of my mind, the thing is that it takes so long to get your citizenship so it didn't seem like a reality early on. Each year I was really just trying to be able to stay in New Zealand with visas etc so I wasn't thinking too long term. Once I got my residency, then it kind of kicked in and I'd been in contact with the coaches at the time so it was always on the cards.
What's it like representing a country that's not your home country?
Well New Zealand is so similar to Canada that the minute I stepped into New Zealand it felt like home to me. I really take pride in living in New Zealand and being a New Zealand resident. So, if I got the opportunity to play for New Zealand in a IIHF tournament, it would be a great honour because it's like New Zealand is my adopted country so it's the same as if I was playing for Canada or New Zealand.
Back to the Stampede, what do you think makes you such a successful team?
Well the finals this year was such a good series against West Auckland and they really made us work for it. I think that within the stampede, we have a really great core group that have been around for like the last 3-4 years the definitely boosts us as a team. It's been pretty close to the same group of guys for that time and we have had a few of the imports stick around or come back which is really good.
Not only the older guys but we have some kiwi kids coming through that are playing awesome and getting better each year like Callum Burns has really stepped up which is awesome because these guys add that depth that you need in a league where people are always getting injuries etc. On top of that, our junior teams, the u14 and u17 Stampede teams are doing really well so I think we will be in good hands for the future.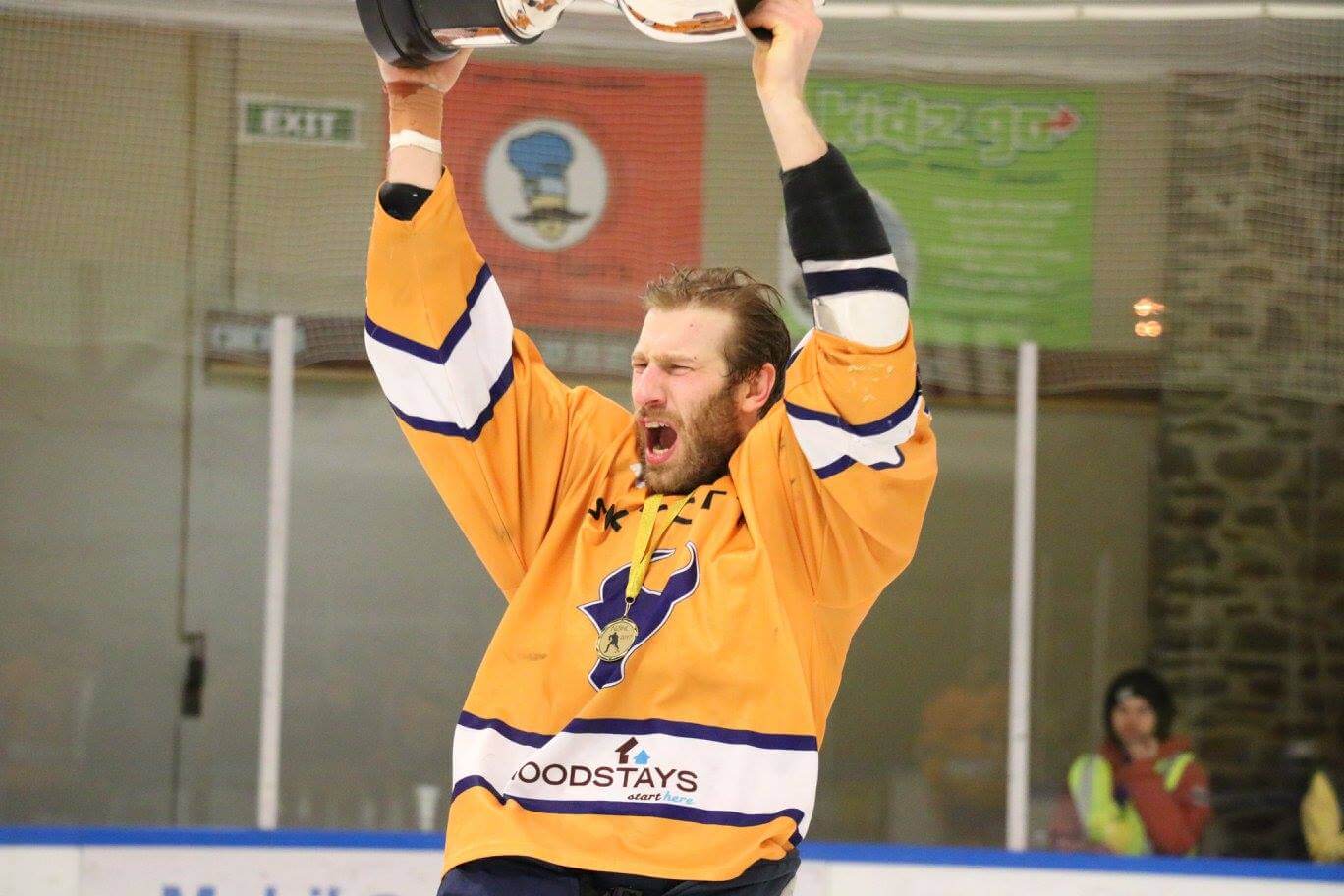 You guys have some pretty passionate fans too right?
Our fans are awesome man. There's a buzz here in the winter when the season starts and for all of our home games the arena is packed. Even around the town, we see people with Stampede flags in their car and kids are out snowboarding in Stampede hoodies. It's an awesome feeling. The fans here in Queenstown are some of the most passionate fans Ive ever played in front of which you really can't take for granted especially somewhere like New Zealand.
Also, I think that we have a really good community vibe in Queenstown. We are a small town and everybody is close by and knows somebody who knows somebody. Even outside the Stampede, we have the men's league here and the kids league, it seems like everybody is involved in something and that really helps us through the year.
If you had one piece of advice for the New Zealand hockey community, what would it be?
Just immerse yourself in the sport. Hockey is quite a niche sport in New Zealand so ice time doesn't come around so easy, so you need to expose yourself to the sport as much as you can. You really need to seek it out here, practice at home, watch NHL games, anything you can that has hockey involved will help develop that kind of 'hockey sense' that we talk about in Canada.
You can follow Matt Schneider and the Skycity Stampede on their website and Facebook page and hopefully with the Ice Blacks in Spain in April.